Healing Brain Seminar: July 1984
THE HEALING BRAIN
Saturday, July 14, 1984
PALO ALTO/ATHERTON
Co-sponsored by
UNIVERSITY OF CALIFORNIA EXTENSION, SANTA CRUZ
and
THE INSTITUTE FOR THE STUDY OF HUMAN KNOWLEDGE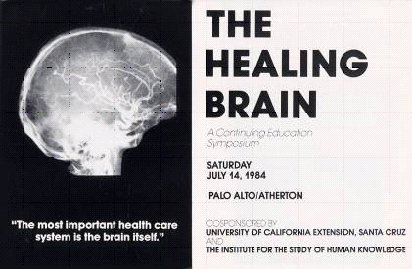 Questions concerning the relationship of mind to matter deserve careful attention when personal health is at stake. The physical distress we feel in situations of social conflict and disunity – how do these effects contribute to health and disease? What about the sense of physical well-being we feel in conditions of social harmony? Can the brain actually heal the body?
Recent advances in brain research and the behavioral sciences have revealed that interpersonal interactions can influence physiological responses and modify disease susceptibility. We are also learning more about how sensitive the brain is to environmental changes, how stress alters our immune system, and how to mobilize the brain's intrinsic healing potential.
These and other findings of major clinical importance will be explored at a one-day symposium. A distinguished faculty of researchers and clinicians will provide through lectures, panel discussions, and questions and answers an up-to-date review of emerging trends in behavioral medicine.
PROGRAM
MORNING SESSION
THE AMAZING BRAIN
ROBERT E. ORNSTEIN, Ph.D.
The principal role of the brain is to maintain the health of the organism in the face of a changing environment. The brain has been found to be far more flexible and adaptable than previously thought. It can grow in response to experience, it can change its chemistry and even its structure in response to the environment. The "keys" to brain function lie in the varied neurotransmitters and the division of the brain into the left and right hemispheres, each specialized for different modes of consciousness. How these keys can unlock different dimensions of our experience will be explored.
PSYCHONEUROIMMUNOLOGY: THE BRAIN'S INFLUENCE ON IMMUNITY
JON D. LEVINE, M.D., Ph.D.
Our immune system plays a critical role in defending the body against disease. However, in certain auto-immune diseases such as rheumatoid arthritis the body attacks itself. Psychological distress may influence the immune system and thereby effect the onset of certain auto-immune and infectious diseases. Researchers are beginning to discover some of the links between the brain and the immune system.
WHO STAYS HEALTHY UNDER STRESS?
DAVID S. SOBEL, M.D.
Not everyone exposed to stress becomes ill. What are the characteristics which distinguish those who remain healthy in the face of stress? The role of personality, coping strategies, and social support in the maintenance of health and resistance to disease will be explored.
AFTERNOON SESSION
THE PLACEBO EFFECT: USING THE BODY'S OWN HEALING MECHANISMS
DAVID S. SOBEL, M.D.
The placebo effect is a vivid example of the organism's intrinsic healing capacities. The nonspecific and symbolic effects of therapeutic interventions may at times be more powerful than specific pharmacological and physiological aspects of therapy. Ways in which these positive expectancy effects can be mobilized without deception will also be explored.
ENDORPHINS, PAIN AND PLACEBOS
JON D. LEVINE, M.D., Ph.D.
Recent research reveals that the body contains several intrinsic systems of control of pain. One of these systems involves endorphins, opiate-like chemicals produced by the body itself to regulate pain. These endogenous chemicals appear to be involved in placebo analgesia. Working in concert with the body's own analgesia systems may yield more effective approaches to pain control.
MIND OR BODY: HOW MEDICAL CONDITIONS CAN MASQUERADE AS MENTAL PROBLEMS
Robert L. Taylor, M.D.
At least 10-20% people seeking help from mental and emotional problems actually have underlying medical disorders. A practical approach on how to recognize the medical conditions (hormone imbalances, nutritional disorders, seizures, drug effects, etc.) that can produce psychological symptoms is presented.
FACULTY
JON D. LEVINE, M.D., Ph.D., is Assistant Professor of Medicine at the University of California, San Francisco. He is a neurophysiologist and rheumatologist with research interests in mechanisms of pain control and the role of the nervous system in rheumatoid arthritis.
ROBERT E. ORNSTEIN, Ph.D., is Visiting Professor of Human Biology at Stanford University and President of The Institute for the Study of Human Knowledge. His research interests include the function of the two hemispheres of the brain, perception and communication in the human sciences. He is author of The Psychology of Consciousness and The Mind Field and co-author of On the Psychology of Meditation.
DAVID S. SOBEL, M.D., M.P.H., is Chief of Preventive Medicine, Kaiser-Permanente Medical Center in San Jose and Medical Program Director of The Institute for the Study of Human Knowledge. His current areas of interest include behavioral medicine, health promotion and public health education. He is editor of Ways of Health: Holistic Approaches to Ancient and Contemporary Medicine.
ROBERT L. TAYIOR, M.D., is a consulting psychiatrist with the California State Department of Mental Health and Assistant Clinical Professor, Division of Family, Community and Preventive Medicine, Stanford University School of Medicine. He is author of Mind or Body: Distinguishing Psychiatric From Organic Disorders and is in private practice in psychiatry.